Bill Morrissey at Barnstormers Theatre, Tamworth, New Hampshire, May 17, 2001
Date: Fri, 18 May 2001 11:17:46 -0400
From: David Henderson

(David Henderson is a long-time friend of Bill's and plays bass on Something I Saw or Thought I Saw.)

For Bill Heads:

Last night Bill appeared in a Drylongso Production at the Barnstormers Theatre in Tamworth, NH. Drylongso Coffee House does a great series of musical events, (both well known performers and new faces), every year, and although the theater is not their normal venue it is a great local asset and a perfect venue for some of the more widely known artists that perform in the area because of its 200+ seating capacity. The Barnstormers Theater is one of the oldest regional summer theaters in existence today. It has been restored over the last couple of years. Anyway:

David Francey opened the show with a well appreciated set. If you haven't seen him yet, do yourself a favor and make time to see him soon.

Bill was in top form last night, in good voice, and very funny. He performed with the band he used on "Something I Saw", (except Johnny Cunningham), plus friend Peter Heimlich on guitar and banjo.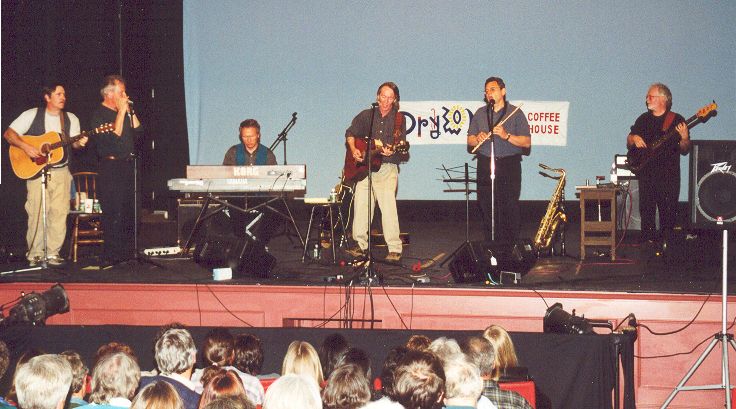 CD release concert: (from left) Peter Heimlich, Cormac McCarthy, Kent Allyn, Bill, Marc Elbaum, David Henderson (photo by Annie Provenzano)
Bill's show was split into two sets.
Play List:

First Set: (all with the band)
Just Before We Lost The War
Handsome Molly
23rd Street
Long Gone
Hang Me
Inside
Buddy Bolden's Blues
Winter Song
Will You Be My Rose

Intermission

Second Set:
Barstow, (solo)
Rite of Spring, (solo)
Birches, (solo)
Traveling By Cab, (Bill & bass)
Man Form Out of Town, (band)
Fix Your Hair, (band)
C.P. Line, (band)
Louis Collins, (band and sing along)

Encore: Mack the Knife

Saint Valentine's Day was also somewhere in the 2nd set.
Won't take up any more of your time with my lengthy ramblings now, but a good time was had by all and it seemed like the audience had as good a time as the band.
DH