Bill Morrissey News
Last updated September 8, 2017
Bill's Grave
Steve Erino has provided a good photo of Bill's grave and its peaceful setting in summertime: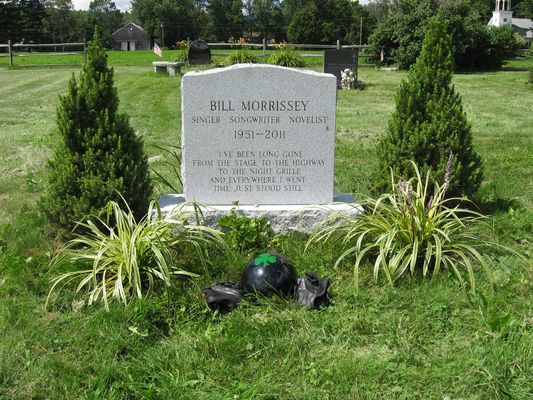 Wonalancet Cemetery, Tamworth, New Hampshire

[September 8, 2017]

---
Mark Erelli's Milltowns, a tribute to Bill Morrissey
Mark Erelli has initiated a Kickstarter campaign for his latest project, an album of his covers of Bill's songs (and one original).

[May 28, 2014]

---
Tribute Concert Planned for November 17, 2011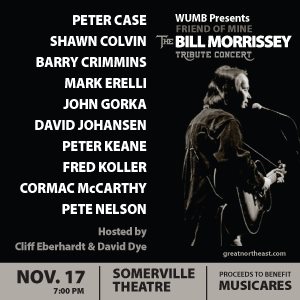 A tribute concert for Bill is being organized for November 17, 2011, at the Somerville Theater in Somerville, Massachusetts. The show will feature Peter Case, Shawn Colvin, Barry Crimmins, Mark Erelli, John Gorka, Peter Keane, Fred Koller, Cormac McCarthy, Pete Nelson, David Johansen, and Patty Larkin. Tickets went on sale September 23rd.
Details are available on the main page at www.turnandspin.com.
Direct link for ticket purchase
[September 9, 2011; updated October 16, 2011]

---
French Translation of Edson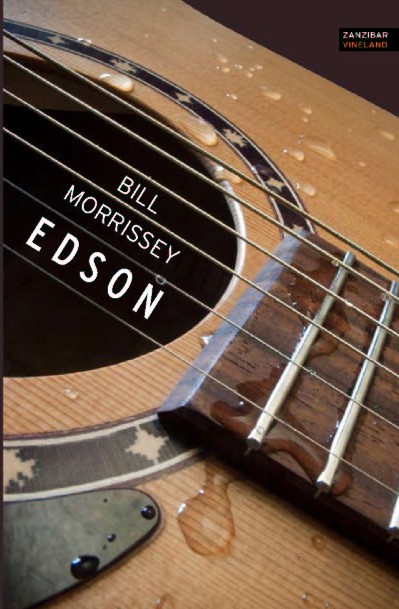 The French translation of Edson will be released on January 10, 2010. Bill will be in Paris during the third week of January for the launch of the book and to perform two concerts.
[December 22, 2009]

---
Come Running via Digital Media
Come Running may be ordered on CD from CD Baby.
The album will be available for purchase and download from the following digital media sites:
BuyMusic
MusicIsHere
Apple iTunes
rVibe
AudioLunchbox
Inprodicon
MP3tunes
PayPlay
Tradebit
GroupieTunes
Interia
Napster
Ruckus
Verizon
The time it takes the sites to make albums available varies from two weeks to two months.
[May 31, 2007]
---
Early Availability of Come Running
The planned release Bill's new album, with full graphics, is in late April, 2007. Advanced CDs (without graphics) are now available:
They are also available for sale at Bill's shows.
[January 9, 2007; updated March 30, 2007]
---
Next Album in Production
The new album, Come Running, has been recorded and is in production. It will be released independently and is expected to be available in the near future.
[September 6, 2006]
---
Bill Working on Next Album
Over the past few months, Bill has gone to the studio to work on songs for his next album. During some of the sessions he has been joined by Dave Alvin.
Dave Alvin (left) and Bill (Click on photos for larger image.)
photos by Annie Provenzano
[March 24, 2006]
---
Bill on Aligre FM Radio in Paris
Bill performed two new songs on Aligre FM in Paris on February 1, 2006. They are called "Dangerous Way" and "Grave of Baudelaire." The program may be played for two weeks at:
http://aligrefm.free.fr/Aligre/player/Playervents2.htm
Bill's appearance is toward the end of the program, about 45 minutes from the beginning.
[February 3, 2006]
---
"Music of John Hurt" Concert
Bill will perform at the "Blues Fallin' Down Like Rain" tribute to Mississippi John Hurt in January:
Wednesday, January 18, 2006
8:00 p.m.
Merkin Concert Hall
129 West 67th Street
For tickets & info: (212) 501-3330 - kaufman-center.org [site requires Flash]
Additional info: www.newyorkguitarfestival.org
[November 11, 2005]
---
Shows in Europe
Bill has just finished a short, well-received tour in Europe. A couple of reports from fans:
Bill Morrissey in Paris and Brussels
Bill Morrissey in Paris and Brussels [cont.]
[April 22, 2005]
---
Bill Morrissey: The Essential Collection
Rounder Records released a collection of Bill's recordings on June 15, 2004, as part of their Heritage Series. It is a single CD and contains 3 new songs as well as a selection of gems from throughout his career. The track list for The Essential Collection:
Barstow
Inside
Robert Johnson
Fifty
These Cold Fingers
Ice Fishing
Just Before We Lost the War
Avalon Blues
Letter From Heaven
Handsome Molly
Different Currency
Cold, Cold Night
Small Town On The River
You'll Never Get To Heaven
Birches
Long Gone
Twenty Third Street
Joe Turner Blues
Just Today
Boston Eyes
[April 25, 2003; updated June 1, 2004]
---
2004 Tamworth Calendar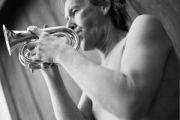 Bill is one of the featured participants in the 2004 Tamworth calendar.
[January, 2004]
---
Johnny Cunningham
Johnny Cunningham died the evening of December 15, 2003, in New York City, reportedly of a heart attack. As any fan of Bill Morrissey knows, the two played together many times, both in the studio and on tour.
Johnny added so much to any song that his playing graced--just consider his exquisite work on "Inside."
Deepest condolences to Johnny's family and friends.
[December 16, 2003]
---
Bill Producing Karaugh Brown Album
Bill is currently producing Karaugh Brown's first full-length album. Bill said he was inspired to take on the production role because "I think she's going to do some serious business in music." Karaugh Brown currently has a 5-song EP CD available from FolkWeb.com.
[April 26, 2002]
---
Article and Live Song by Bill in Yankee Magazine
The July-August 2001 issue of Yankee magazine has a section on "Music Made in New England." Bill contributed one of the articles, and the issue also comes with a free Rounder promo CD of music by New Englanders. The CD includes a previously unreleased live performance of "Fix Your Hair the Way You Used to" as well as the CD version of "Just before We Lost the War." (The CD may also be ordered from Rounder.)
[July 10, 2001]
---
Bill Contributes to New Tribute CD for Mississippi John Hurt
Avalon Blues: A Tribute to the Music of Mississippi John Hurt includes Bill's rendition of "Pay Day," a song he has occasionally performed over the years (including on his tour with Greg Brown following the release of their 1993 collaboration, Friend of Mine).
Rolling Stone's review of the album
[June 22, 2001]
---
New Songs/Album
Bill has written a bunch of new songs and is playing some of them at gigs. He recorded them in September of 2000, and the new album of original tunes, Something I Saw or Thought I Saw, was released on April 3, 2001.
The title comes from a line in Robert Frost's poem "On the Heart's Beginning to Cloud the Mind" (circa 1937). Bill produced the album himself. Musicians include Kent Allyn (keyboards and guitar), Johnny Cunningham (violin), Marc Elbaum (clarinet and tenor sax), David Henderson (bass), and Cormac McCarthy (harmonica). The songs on the album are:
23rd Street
Harry's Last Call
Just Before We Lost the War
Winter Song
Moving Day
Buddy Bolden's Blues
St. Valentine's Day
Traveling by Cab
Fix Your Hair the Way You Used To
Judgment Day
Mobile
Will You Be My Rose?
Rounder's page has a 40-second soundclip from the first song.
[August 10, 2000; updated May 10, 2001]
---
Bill in No Depression
An article on Bill is in the June 2001 issue (no. 33) of No Depression.
[May 10, 2001]
---
Grammy Nomination
Bill's 1999 album Songs of Mississippi John Hurt was nominated for a Grammy award in the "Best Traditional Folk Album" category. This is Bill's second Grammy nomination. His 1993 album with Greg Brown, Friend of Mine, was also nominated for "Best Traditional Folk Album."
While he didn't win, the nomination was a strong recognition of the talents of a man who goes about his artistic endeavors in his characteristic low-key way.
[February 13, 2000; updated February 25, 2000]
---
Imaginary Runner (New Book)
For the past couple of years, Bill has been working on his second novel, the follow-up to the critically acclaimed Edson. Originally given a working title of Slow Blues, it is now expected to be called Imaginary Runner (after the terms used in pick-up games when there aren't enough players for every base). In a recent interview, Bill said of the book: "It's about a guy, roughly 39, who's taking his first solo trip across the country to meet the 19-year-old daughter he's never met."
In an interview with the Boston Herald on April 6, 2001, Bill said of the title:
In a ballgame, the imaginary runner can only travel as many bases as the next batter does. My character is also not in control of his own life. Things happen to him. Where he goes is up to other people.
The first chapter of the book was published as a short story in the June, 1998, issue of the Idaho Review. The editor is Mitch Wieland at Boise State University, English Dept., 1910 University Dr., Boise, Idaho 83725. Phone: 208-385-1002.
Bill has gone back to rewrite portions of the book a couple of times. It is now in the hands of Bill's literary agent, who is negotiating with publishers.
[June, 1998; updated April 12, 2001]
---
A Star on the Sidewalk
Tower Records will honor Bill with a star on the sidewalk at their Cambridge, Massachusetts, store. There will be a ceremony, including a brief performance by Bill, on Friday, July 9, at 1:00 p.m.

[July 2, 1999]
---
Songs of Mississippi John Hurt
See the Songs of Mississippi John Hurt page for more information.
[January 8, 1999; updated April 15, 1999]
---
Touring Troubadours
Rounder Records' Touring Troubadours CD features two songs by Bill, "Shake that Thing" from Songs of Mississippi John Hurt and a previously unreleased concert performance of "Inside." "Inside" is from Nashua, New Hampshire, in 1991 and is a similar arrangement to the album version on the album of that title, but without Suzanne Vega's backing vocals.

The CD has 18 songs, two each by nine artists, and is only $5. It is available at Bill's shows, from Rounder Records, and--for those in the Boston area--at Club Passim.
[July 1, 1999]
---
The Fiction Workshop Series
Bill will be on the faculty for the The Fiction Workshop Series in Boston on October 3 and 4, 1998. The event will be held at Suffolk University. Robert Olmstead is also on the faculty. For more information see http://www.writerswrite.com/conf.htm or call 717-243-3205.
[August 28, 1998]
---